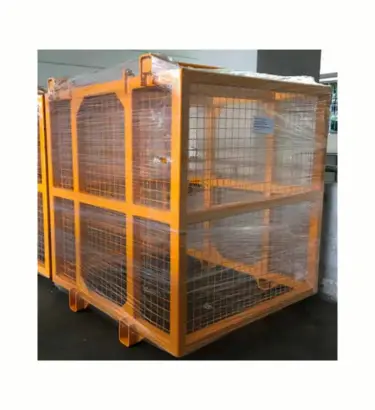 Pallet cage units are expertly designed with a focus on space optimization, structural durability, and top-notch safety to enhance your pallet lifting solutions in industrial environments. These safety-oriented lifting cages are seamlessly compatible with both wooden and plastic pallets, ensuring versatility and adaptability for various applications.
These specialized pallet lifting cages are designed for the secure transfer of cargo between work boats and rigs, efficient lifting of pallets from marine work vessels, and the safe and smooth handling of materials on loading or unloading docks, among other industrial tasks. Additionally, we offer the flexibility to customize the sizes of these units according to our customers' specific requirements.
These lifting cages are designed to streamline the storage and transportation of goods within warehouse facilities, cargo stations, and any business in need of efficient and secure cargo handling solutions. They ensure the swift and safe lifting and movement of cargo, whether it's for stationary storage or during transit, all while prioritizing maximum security. 
The palletized cargo lifting cage is a versatile solution tailored for transporting loads in various environments, including marine vessels, offshore platforms, and heavy-duty cargo handling onshore. Here are a few general examples:
For utmost safety in industrial settings with heavy loads, rely on our secure Pallet Cages. Whether you need standard or custom designs, trust RAAH Group INC for durable and reliable options. Contact us now for orders or bulk pricing.