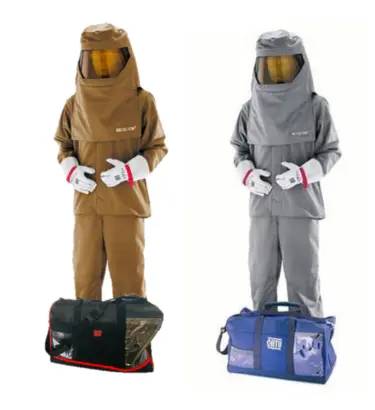 Arc flash kits comprise a collection of specialized clothing items designed to work in unison to safeguard individuals from the dangers of electric arc flash incidents. Each of our kits is bundled with a robust electrical gear bag for added convenience and protection.
Arc flashes can originate from a variety of sources, including human mistakes, technical issues, or unforeseen circumstances. It is crucial for any individual working with electrical currents, especially those involving high voltage, to adhere to safety protocols for electrical precautions. The intense and potentially life-threatening outcomes of these incidents underscore the importance of wearing the right protective clothing and equipment to prevent serious injuries to workers.
RAAH Group Inc Dealing in Catu UK Electrical Safety products:
Arc Flash Jackets and Protective Coverall Kits
The Catu electrical safety overall kit, categorized as arc flash protection clothing, comes in various models, each designed for optimal comfort using lightweight materials while offering excellent arc flash resistance. These different versions are specifically engineered to withstand varying levels of incident energy associated with arc flash events.
KIT-ARC-08-C: 8 cal/cm2
1 KIT-ARC-10-C: 1'0 cal/cm2
2 KIT-ARC-10-J: 10 8 cal/cm2
3 KIT-ARC-10-JP: 10 8 cal/cm2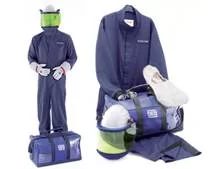 The weight of the model can vary between 3 kilograms and 4,400 kilograms. Each kit includes a set of arc-rated safety gear, which consists of a face shield, helmet, safety glasses, protective coverall with a rating of either 8 cal/cm2 or 12 cal/cm2, a flash blue suit jacket with a 12 cal/cm2 rating, trousers, and a carrying bag.
Industrial Uses:
Arc Flash hazards pose a significant risk in various industrial electrical settings, potentially resulting in injuries to personnel and large-scale fire incidents if adequate safety measures are not in place. Catu Arc Flash Protection offers essential safeguards when working with high-voltage currents and handling substantial electric cables, whether as a secondary facility or a fundamental component of an industry. Here are some industries particularly susceptible to Arc Flash incidents:
Arc Flash hazards pose a significant risk in various industrial electrical settings, potentially resulting in injuries to personnel and large-scale fire incidents if adequate safety measures are not in place. Catu Arc Flash Protection offers essential safeguards when working with high-voltage currents and handling substantial electric cables, whether as a secondary facility or a fundamental component of an industry. Here are some industries particularly susceptible to Arc Flash incidents: