Drill Pipe Connection Guide Tool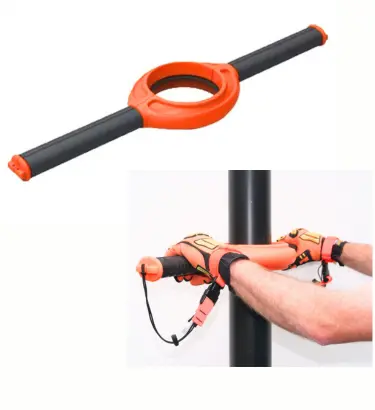 The revolutionary design of this innovative tool presents a long-awaited answer for companies grappling with the dangers of a well-known risky task. By providing a solution that eliminates the necessity for direct hand-to-pipe contact, this tool ensures both precision and control.
This ingenious tool effectively keeps handlers' hands away from potentially hazardous pinch point areas. Moreover, it significantly enhances the driller's visual access to the connection, thereby minimizing the risk of tread damage.
The tool's interior features a rubber seal along its inner radius. This seal serves the purpose of wiping off drilling fluid during the process of pulling out of the hole. When utilized correctly and in combination with other personal protective equipment (PPE), this tool plays a pivotal role in markedly reducing handlers' exposure to harmful drilling fluids.
Available DRill Pipe Diameter:
This device comprises two identical components that can be securely fastened around a drill pipe. It is operated by a pair of personnel. The primary purpose is to enhance the stability of the drill stand while it interacts with the stand set in the rotary slips.
The design of the handles ensures that the operators are kept away from areas where they could get caught or from harmful drilling substances. These handles are equipped with chemical-resistant, exceptionally durable rubber.
Each of these components is equipped with wrist lanyards, which serve the dual purpose of minimizing the chances of accidentally dropping the tool into the boring hole and reducing the risk of personnel getting entangled with rotating equipment. Additionally, these components are equipped with a quick disconnect mechanism to swiftly separate from the equipment, mitigating any potential hazards to the limbs of the personnel operating it.
Designed solely for utilization on the drill floor, this bipartite instrument is managed by a pair of individuals during the assembly of drill pipe.
Enhance your oil and gas rig safety, minimize incidents, and optimize rig efficiency with the Drill Pipe Connection Guide. Connect with our proficient team at RAAH Group INC to place your order or receive a quote for bulk purchases now. Your journey towards safer and more efficient operations begins today!