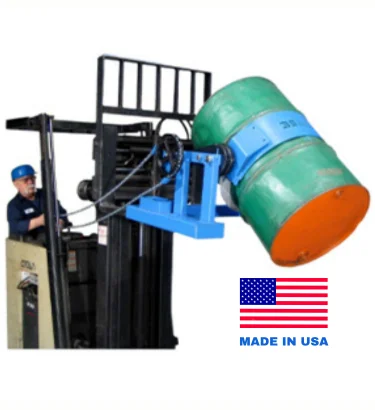 Manual transportation of heavily loaded drums can be physically demanding, leading to a higher risk of workplace injuries and decreased personnel efficiency. To address these challenges, the industrial sector has introduced powered drum lifters to the market. Among these innovations, the fork-mount drum mover stands out as an engineered solution designed to improve safety and enhance efficiency when handling drums made of plastic, steel, or fiber.
In essence, the automatic drum palletizer is meticulously crafted for the purpose of effortlessly grabbing, lifting, and transporting barrels. This is achieved through the utilization of a specialized drum grabber forklift attachment, suitable for drums of various materials such as steel, fiber, or plastic. This innovative equipment serves as a reliable and efficient solution for custom drum handling needs in industrial settings.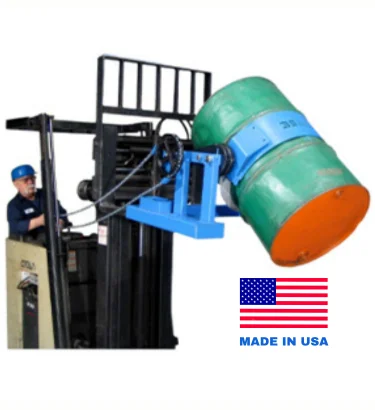 Available Models:
Morse Drum Lifter and Tilter offers a diverse range of truck lift models to cater to specialized industry needs, enabling efficient movement, pouring, and mixing of barrel contents. Here's a concise overview of the available options:
Model 290F GRIP+GOTM Power-Grip

Powered barrel handling with tilt and 180-degree inversion capabilities.
Supports a maximum capacity of up to 1500 pounds.

Model 285A-BP

Forklift-Karriers equipped with built-in battery power.
Offers a 180-degree tilt function and requires manual placement.
Capable of handling loads up to 1500 pounds (681 kg).

Model 285XBP

Forklift-Karriers featuring built-in battery power.
Provides a 180-degree tilt mechanism and manual placement is required.
Suitable for loads with a capacity of up to 2500 pounds (1134 kg).

Forklift-Karriers with Manual Drum Grip

Chain-operated drum tilters designed for manual placement.
Available in four series, with capacities ranging from 800 to 2500 pounds (363 to 1134 kg).

MORSPEED 1500 Forklift Equipment Attachment

Fork-mounted drum grab attachment for palletizing and handling heavy barrels, up to two at a time.
Activated by the weight of the drum, requiring a minimum of 75 pounds (34 kg).
Offers a maximum capacity of 1500 pounds.

MORSPEED 1000TM Forklift Attachment

Designed for heavy-duty drum handling.
Activated by the weight of the drum, with a minimum requirement of 50 pounds (23 kg).
Supports a maximum capacity of 1000 pounds.

MORStakTM Model 289F

Suitable for 55-gallon rimmed steel and plastic drums.
Fork-mounted drum lift and tilt with a maximum capacity of 800 pounds (363 kg).

MORStakTM Model 289F Model 289C

Designed for 55-gallon rimmed drums.
Equipped with a carriage mount for lifting.
Offers a maximum capacity of 800 pounds (363 kg).

Morse Model 284 Fork Mount Hook

Suspend hook attachment with a weight capacity of up to 2000 pounds (907 kg).
These diverse options from Morse Drum Lifter and Tilter cater to various industrial requirements, providing efficient solutions for barrel movement and manipulation.
Other Products:
How Your Company Can Benefit From Fork Mount Drum Handler?
Enhancing industrial drum handling procedures with powered lifting, transport, pouring, and mixing capabilities represents an innovative addition to modern industrial operations. This advanced equipment not only facilitates the effortless retrieval of drums from various surfaces but also allows for easy handling from pallets, stacking, loading onto trucks, and more. While it may be initially viewed as an investment, integrating these upgrades into your drum handling equipment can yield significant financial benefits by reducing costs and streamlining operations. Furthermore, these advancements contribute to enhanced safety measures for personnel.
RAAH Group Pte Ltd is dedicated to assisting you in optimizing your industrial barrel handling system through our extensive range of Morse drum handling equipment. Our goal is to enhance the overall efficiency and effectiveness of your drum handling processes.