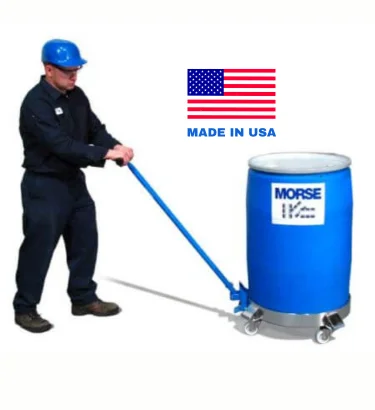 Morse dollies find utility in a range of industries that regularly work with and transport large barrels within short distances. While Morse provides an assortment of drum rollers designed for versatile applications, here are a few examples of industries that can derive significant advantages from this product A set of dollies equipped with handles designed to extend to chest height, facilitating easier transportation of barrels or drums over short distances. These are commonly referred to as 55-gallon drum handling equipment or drum dollies with handles.
Features:
Body and handle clamps are constructed from robust steel and other durable metal alloys.
Features a corrosion-resistant, powder-coated finish for long-lasting use.
Ideal for transporting heavy items such as barrels, drums, and other bulky appliances.
Offers effortless and efficient mobility. 
Equipped with casters made from sturdy polycarbonate plastic. 
Boasts an impressive capacity of up to 1,000 pounds (0.5 tons). 
Available in various sizes, ranging from 15-gallon drum dollies to 55-gallon drum dollies. 
Morse dollies come in both round dolly handle and square versions, featuring raised corners to securely hold barrels in place.
Comes in spark-resistant and stainless steel variations to meet specific requirements. 
Designed with a soft-grip dolly handle to ensure maximum comfort for personnel during use.
Drum Dollies with 3" (7.6 cm) MORtuf polyolefin swivel casters. Capacity: 1000 Lb. (454 kg)
14 Series Round Drum Dollies Move a drum on dolly with wide stance base. Fits up to 23" (58.4 cm) O.D.
34 Series Square Drum Dollies Rounded corners turned up hold drum in position. Fits up to 24" (61 cm) O.D.
Option # 4959i-P: Stainless steel casters with polypropylene wheels on any Morse drum dolly.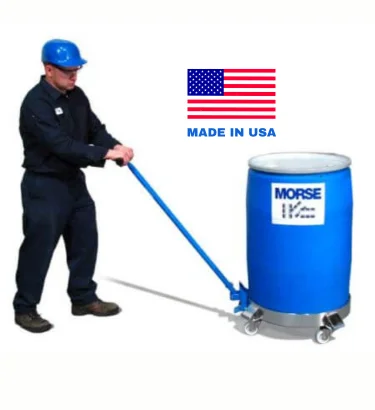 Ultimate Solution for Safe and Convenient Transport with Morse Drum Dollies