10" PRO Pipe Handling Tool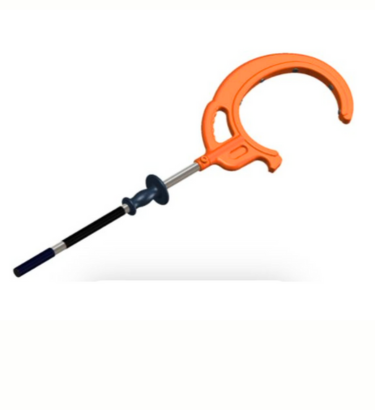 The 10" PRO Pipe Handling Tool has been meticulously crafted to empower operators with the ability to effortlessly manage an array of tasks including pushing, pulling, and maneuvering suspended drill pipe (BHA), as well as substantial diameter pipes like casing joints and hoses, all of which measure up to 10". This exceptional product stands alone in the market as the sole solution tailored to oversee these challenging operations linked to sizeable tubing, minimizing associated risks.
The PRO Pipe Handling Tool serves as a crucial element for establishing a Hands-Free work environment on both the rig floor and catwalk areas. It plays a versatile role in managing different drilling and fishing tools, while ensuring a secure separation and protective zone during the intricate and risky process of pipe manipulation.
Tailored lengths can be accommodated upon inquiry. Constructed using medium density polyethylene and 30mm marine-grade aluminum, the PRO Pipe Handling Tool boasts a combination of lightweight design and exceptional durability. Its suitability for challenging conditions further enhances its value, making it an ideal choice for demanding environments.
The 10" PRO Pipe Handling Tool is designed to enhance the transportation of suspended larger pipes, drill tools, bulk hoses, and BOP service lines. This tool serves as a valuable addition to the conventional tagline method, offering superior load control and granting handlers greater flexibility when moving and placing pipes with substantial diameters.
Enquire About This Product!
When engaged in drilling operations, it is strongly advisable to utilize the push-pull pipe tool alongside additional safety gear. This includes anti-crush point safety boots, protective gloves, suits that can resist drilling liquids, and personal protective equipment (PPE) for the face and head. RAAH Safety offers a comprehensive range of safety tools, as well as oil field equipment, catering to diverse international industries. To make a purchase, receive bulk purchase quotations, or seek guidance regarding supplementary safety tools, feel free to get in touch with us without delay.