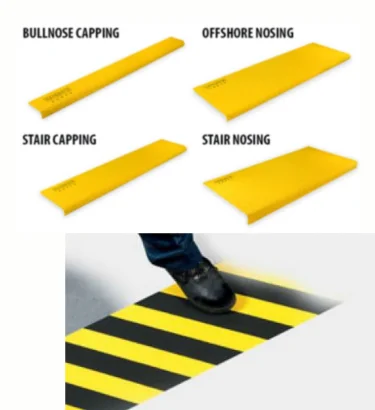 A significant portion of workplace accidents can be attributed to slip and fall incidents. The primary cause of these accidents is often the absence of appropriate flooring that provides adequate traction for maintaining stable footing. Slip and falls can occur on level surfaces, but the consequences tend to be less severe than when they happen on elevated structures like ladders or maintenance decks. Several contributing factors increase the likelihood of slip and fall accidents, including improper footwear, spills of chemicals or lubricating materials, electrocution risks, and slippery walkways.
Every industry has a responsibility to ensure the safety of its employees and customers by taking measures to prevent injuries and slips in high-traffic pedestrian areas, entrances, and footpaths that may be exposed to spills. This can be achieved by installing appropriate flooring and using anti-slip ladder rung covers.
Our premium Safe Mate anti-slip mats and accessories have been adopted by a wide range of clients, including those in the oil and gas rig, marine, food processing and packaging, healthcare, education, public transportation, and various other sectors. These products have proven effective in safeguarding their premises against slip and fall incidents.
PEDESTRIAN PIPE AND HOSE RAMPS
Pedestrian walking pipe ramps, also referred to as Portable Cable Covers, are ingeniously designed to serve as miniature bridges over pipes, hoses, and cables. Crafted from high-quality polyester, each drop-over pipe protector is built to endure impacts and enhance safety by offering a high-traction surface.
Notably lightweight, these anti-slip ramps can be effortlessly moved and installed by a single operator. They find utility in various applications, whether for temporary cable and pipe protection at events like music festivals and public fairs, or as permanent fixtures in heavy-duty industries such as marine decks and corporate entrances.
These covers exhibit remarkable resilience in even the most challenging environments and are available in two distinct options: pre-made configurations and customized solutions tailored to your specific needs.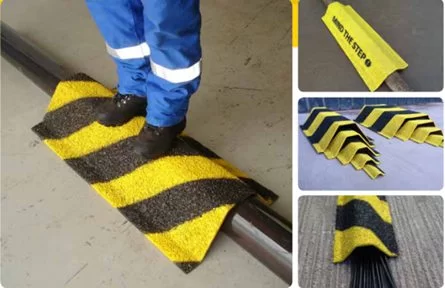 Crafted from high-traction and durable fiberglass reinforced plastic (GRP), these non-slip rubber mats have been engineered for effortless installation, offering versatility for both semi-permanent and permanent applications. The underside of these mats is equipped with rubber webbing, providing vital dielectric and heat insulation to shield pipes, hoses, and cables passing underneath from potential impacts. These anti-slip rubber mats are offered in a safety-conscious black and yellow striped design, available in standard sizes while also offering customization options for sizing and color coding tailored to your specific industry requirements. The standard variations serve as effective solutions for applications such as stair tread anti-slip solutions, ladder rung covers, and anti-slip door mats.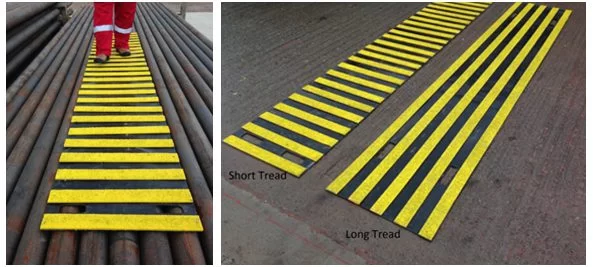 Get Quote:
RAAH Group proudly serves as an authorized distributor for a range of innovative brands committed to enhancing workplace safety. Reach out to us today for a competitive quote on bulk orders, or share your customization requirements, and we'll tailor a solution specifically for your needs!