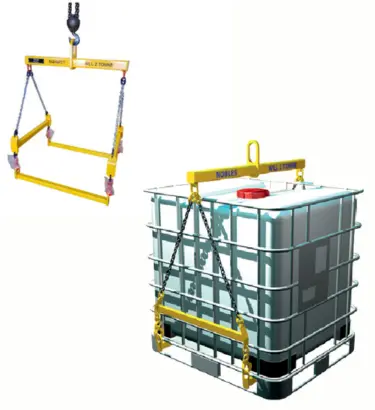 IBC Pallet Lifter designed for the purpose of moving IBC containers via crane, offering a more secure alternative to fork-type pallet lifters. It proves particularly effective in scenarios where limited space is a concern. These lifting devices can be tailor-made to meet specific requirements upon inquiry.
The package comes inclusive of chains, safety hooks, connectors, and undergoes comprehensive testing as an integrated system.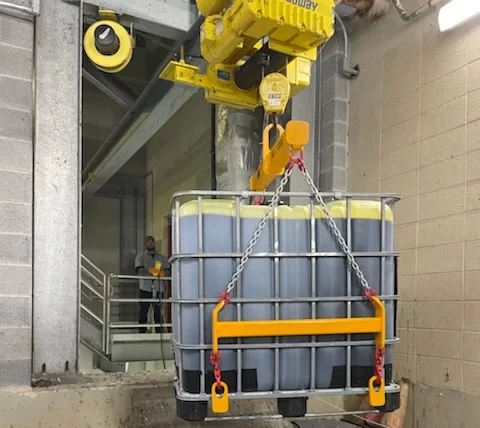 IBC Lifters Includes: 
1. Spreader Beam
2. Chain and Fittings
3. Connector
4. Safety hooks
5. Weight – 100kgss
6. WLL – 2 Tons
Key Features:
Secure transport and control of IBC containers ensured.
Modular configuration facilitates easy transportation between sites.
Customized design allows for the replacement of various parts.
Compact design for convenient storage.
Standard 3-coat marine paint specification.
Includes safety use instructions.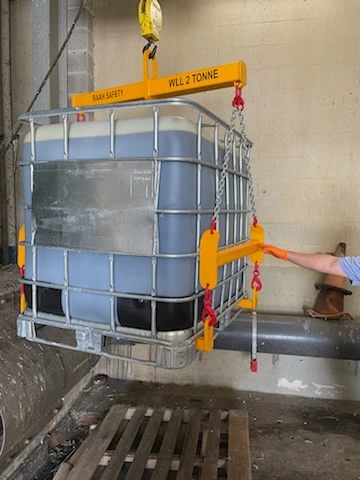 Pallet lifter and crane:
The IBC lifter is a specialized device created for the purpose of hoisting IBC containers and pallets using a crane. This apparatus consists of two sturdy metal bars that are positioned underneath the IBC or pallet, connecting to a spreader beam above with the assistance of metal slings. It comes equipped with all the essential components, including the spreader beam, chains, fittings, connectors, and safety hooks. With a maximum working load limit (WLL) of 2000 kilograms, it ensures the safe and efficient lifting of heavy loads.
Among the assortment of lifting devices available, crane pallet lifters stand out as highly versatile tools. These ingenious below-the-hook lifting devices excel at transferring materials of various types and sizes, making them ideal for loading and unloading tasks. Crane pallet lifters are a top choice for optimizing the efficiency of overhead material handling systems, especially in environments like small warehouses or challenging spaces where forklift trucks may not be the best fit.
Get Quote:
Our commitment to delivering the most effective material handling solutions is evident through our customized design and engineering processes. These processes result in unique products tailored to your specific needs, ensuring the best possible performance in your workplace. Our dedicated sales team is at your service, ready to provide assistance and address any inquiries you may have. Please don't hesitate to reach out to us if you have any questions or require further information.