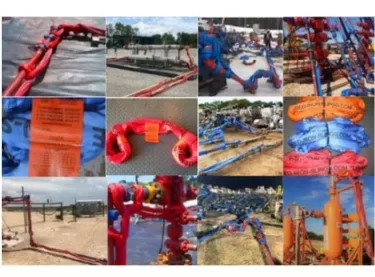 Red Iron Slings have been specifically engineered to bolster safety in high-pressure pipe handling operations, effectively mitigating the risk of injuries stemming from pipe failure incidents. These slings incorporate a temporary pipe restraint system to curtail movement and prevent potential whipping or dangerous movements in high-pressure piping systems in the event of a pipe pressure failure.
Available in three lengths, including 4 ft, 10 ft, and 20 ft.
Our Pressure Pipe Restraint Systems offer top-tier safety and reliability solutions for various piping needs. These systems provide crucial restraint for joints, transitions, couplings, mechanical joints, and other temporary flow lines, enhancing workplace safety and preventing personnel injuries and equipment damage.
Crafted with intelligent design, our restraint systems are engineered to dynamically respond to pressure changes within the pipes, ensuring consistent performance and safeguarding your operations. Available in a diverse range of sizes and pressure ratings, our solutions are tailored to accommodate a wide array of pressurized system applications. Count on us for peace of mind when it comes to the safety and security of your piping systems.
Specifications:
The red iron slings are made to last and in compliance with global standards for internally approved safety performance. Here are the general specifications of our Red Iron Chokers.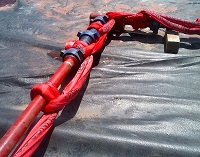 Industrial Application:
Here are the main applications of our Oilfield Hose Pipe Restraints, used in the industrial oil and gas systems.
Well heads
Flow lines including gathering systems, crude oil pipelines, and refined products
Well control systems for acid injection
Saltwater removal pipe systems, etc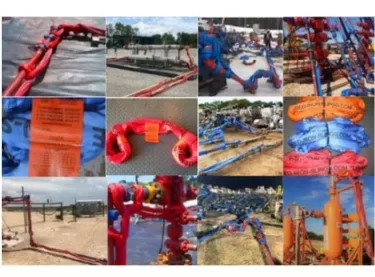 Place your order now and reach out to our oil field expert at RAAH Group Inc for a consultation regarding the calculation of pressure ratings and other essential details for Pipe Safety Restraints, Slings, and Clamps. Take advantage of our discounted prices for bulk purchases today.